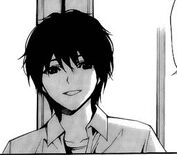 Kouichi Sakakibara is main protagonist of the Another manga, and is its principle point of view character (though he shares this with Mei Misaki and Izumi Akazawa for a few scenes). A recent transfer student to Yomiyama North Middle School, Kouichi is at first confused by the strange nature of his new class. But as his fellow students begin to die, he comes to realize sinister forces are at work...and they seem to revolve around a mysterious, withdrawn girl named Mei.
Comparison to the anime
Edit
One of the major differences between anime and manga Kouichi is his relation to Izumi. In the anime they're shown to be friends, whereas in the manga Izumi blames all the deaths on Kouichi (and Mei).
Ad blocker interference detected!
Wikia is a free-to-use site that makes money from advertising. We have a modified experience for viewers using ad blockers

Wikia is not accessible if you've made further modifications. Remove the custom ad blocker rule(s) and the page will load as expected.